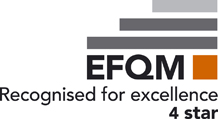 Quality and business excellence for You
Proven, qualified improvement of client and employee satisfaction is increasingly viewed as good form in the current economic landscape. For these reasons, MAK Consulting AG has committed to a comprehensive quality programme.
Since the company was set up in 2000, MAK Consulting AG has been operating based on the quality precepts of business excellence and implementing these to benefit the delivery of services.
In November 2011, these values were the first time emphasised via the achievement of the "recognised for excellence" stage. With this distinction that is recognised throughout Europe, the European Foundation for Quality Management (EFQM) confirms that MAK Consulting AG has aligned its activities, processes and organisation for long-term success and customer service.
It is important to us to continuously improve our services and processes via this internal quality assurance and to orientate them to your requirements. The success of an idea is largely determined by action – and we want to create this action in cooperation with you so that the idea can take shape.
Read more about EFQM
MAK Consulting AG • Hübeliweg 1 • CH-3052 Zollikofen
Telephone: +41 31 382 06 00 • E-Mail: contact(at)mak.ch