Maintaining processes
Ensuring the transparency, manageability and efficiency of processes
The implementation and efficiency of your value creation processes directly affects your company results. It is therefore important for your processes to be presented transparently, optimised on an ongoing basis and applied accordingly.
Image: Feedback loop for company management according to MAK©
As shown in the graphics, processes are continuously affected by adaptation of the objectives and the resulting changes in operational control. Other relevant factors are changes, improvements and innovations which necessitate the adaptation of processes.
Today the business world is changing with increasing rapidity. Our experience shows that, business processes become outdated in two to three years, so that potential for optimisation can no longer be used systematically. Since efficient processes are no longer being followed, the result is entrepreneurial risk. The adaptation of the processes to altered conditions is associated with high costs, as the processes have to be re-developed from scratch.
With regular maintenance, processes can be continuously adapted to the current situation. The processes remain transparent, flexible and manageable. The following image shows sustainability, risk reduction and savings potential resulting from continuous process maintenance, in simplified form and based on experience values.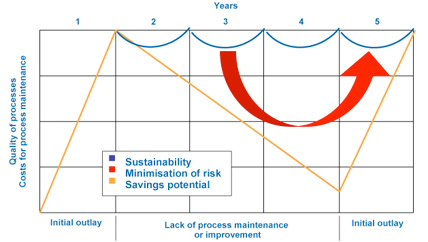 Image: Sustainability, risk reduction and savings potential with continuous process maintenance
Fact Sheet: Read more about our maintaining processes service
How can MAK support you?
MAK supports you in all phases – from analysis, design and implementation to continuous improvement of your process maintenance.

To be specific, MAK offers the following services in these areas, which may be tailored to your requirements in a modular format:
Introductory workshops in the fields "process management" and "maintaining processes" according to your requirements
Definition of your concept to sustainable process maintenance
Process review with qualified recommendations and possible measures to optimise processes
Identification and implementation of process adaptation and optimization (including preparation and moderation of workshops)
Managing (hosting) your processes on our server (outsourcing process maintenance)
Ongoing updating of your processes using details from the process managers
Analysis of the company status and support in change management (removing resistance)

Possible support by MAK:
Project management
Support / coaching of your internal project team
Cooperation / support in your internal project team
Support by our specialists to complement your internal project team
We offer these types of cooperation in conjunction with the complete execution of a project as well as supporting individual project phases.
MAK Consulting AG • Hübeliweg 1 • CH-3052 Zollikofen
Telephone: +41 31 382 06 00 • E-Mail: contact(at)mak.ch